My Hero Academia Ochaco Uraraka Uravity Hero Costume
Regular price
$265.00 USD
Regular price
Sale price
$265.00 USD
Unit price
per
Sale
Sold out
Character: Ochaco Uraraka Uravity

Including: Helmet + Neckband + Wrists Equipment + Belt + Leg Equipment

Size: Made to Order

Measurements needed:
1) Height
2) Weight
3) Shoulder Width
4) Head Circumference
5) Neck Circumference
6) Waist Circumference
7) Wrist Circumference
8) Knee Circumference
9) Calf circumference
10) Ankle circumference
11) Calf Length
12) Shoe Size
13) Gender

Material: The model is made of PVC and EVA

Handling Time: 20-50 Business days

Features: Props are specially designed for role-playing, decoration or collection, applicable to cosplay shooting, not sharp or dangerous.

We also provide the service to make the new props from pictures/design diagram that you provide, please contact us for more details.

Color: Pink

Age Group: Teen (Grades 6-12) and Adult

Gender: Unisex
FAQs
Share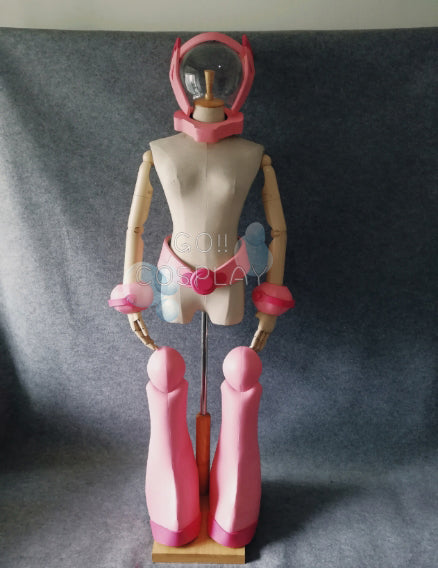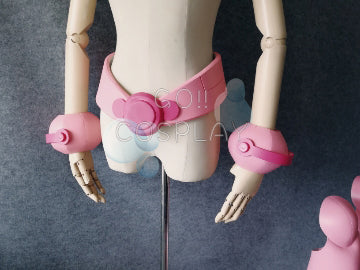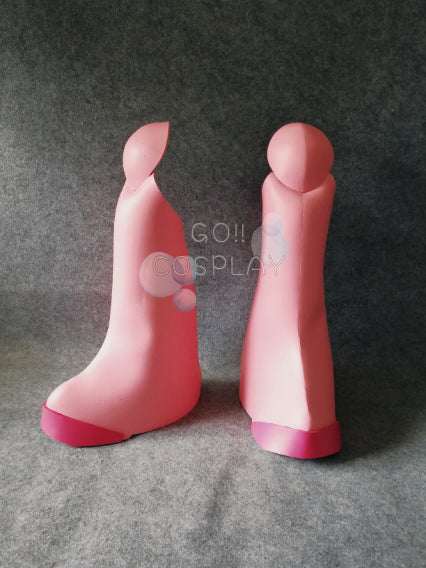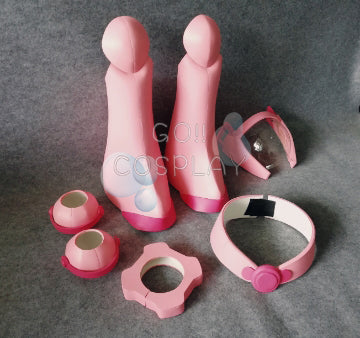 FAQs
Q: Why most of the cosplay items are custom made?
A: Almost all of our items are custom made, not in stock, and we always trying our best to offer more suitable costumes and better wearing experiences to our customers, so that most of the cosplay costumes and armors in Go2Cosplay are custom made based on your personal measurements.

Q: How can I make a custom size order?
A: Almost all of our cosplay costumes are custom made and since there is a little difference between the sizes of the costume and the real size of everybody, in order to offer you a more suitable costume, email go2cosplay@gmail.com to us your size upon checkout. (in inches or centimeters)

Q: How do I measure myself?
A: Since all of our costumes are made to order, please note that we need at least to know your height, weight, bust, waist and hip to be tailored. For more accurate sizing, you are advised to get someone to help you if possible. Of course, we also add the function of additional messages for you on our site, so that you can give us more detailed parameters to ensure that your costume will perfectly fit. In addition, there is one thing concerning shoulder size that need your attention: it is the straight distance from the left shoulder to the right shoulder, not a circle around the shoulder. Measurements can be taken in either centimeters or inches. The exact measurement of the costume will depend on the version ordered and your own individual need for comfort.

Q: Could you make it for the kids or oversized?
A: Yes of course we can, we used to make so many costumes for small kids and oversized body, just make sure all the measurements we needed are right, then we'll offer the best costume for you.

Q: Still need help with sizing and fitting?
A: Please contact us if you have any more questions about sizes so that we can give you more advise. Please also mention how you would like the costume to fit, for example, tight, loose or just right.

Shipping FAQ
Q: How can I ask fast shipping service? If I need the costume in rush, what should I do?
A: You can ask the fast shipping service of course, and the fast shipping fee depends on the item you choose!
If you need rush orders, we can offer fast shipping fee to you, and we'll choose DHL/TNT/Fedex to ship the item to you, the estimated delivery time usually within 7 business days! Just email to go2cosplay@gmail.com and tell us the date you need the item first, then we'll let you know about the fast shipping fee!
Please note that the shipping time will influenced by some Holidays or Festivals, we cannot control the shipping time! And also, import duties, taxes and other customs related charges are not included in the shipping fee. Buyers bear all responsibility for all extra charges incurred (if any).

Q: How long will I wait once I placed the order?
A: Actually, we need about 2 weeks to make the costume, about 7 days to make a wig, boots or some accessories, but for some armor, props and special items, we may need about 1 to 2 months to finish them.

Q: Will you guys provide the tracking number once it sent?
A: Yes, of course we will, we'll send the tracking number to you once it shipped.

Q. Do I need to pay the customs duties of the package?
A: We can't guarantee you won't be charged since it is random. Also, it depends on the policy of each country. Please kindly note that the buyer should be responsible for the custom duties.

Q: What about shipping time?
A:
All of our items are free shipping with standard shipping service, if you need rush orders, let us know so we can offer extra fast shipping for you. Shipping time as following:

1) Stand Shipping
Normally it will take 25-30 days to deliver.
2) Fast Shipping
It will take 5-10 days to deliver, once choose Fast shipping, you need to tell me the specific date you want to get it.
Normally we'll choose 4PX, EMS and China Post to ship the products (depends on the size of the package). The package can arrive within a month normally but we can't make any promise about shipping, so you'd better leave enough time before the date you need the cosplay items.

Q: Why it take so long to make a armor and prop?
When we receive your payment, Your orders will be dealt within 24 hours. All of our orders are made one by one, especially for the props, due to the long processing time, we need to schedule the orders to make sure all of our customers can receive their items in time. For example, if today is May 1st and now the orders arranged to June 1st, that means if you place the order now, we can only start to make the props at June 1st. So if you need it by a specific date, please email go2cosplay@gmail.com to let us know.

Q: Can I buy some pieces separately of a costume?
A: It all depends, you can contact us first.

Q: Do you accept the commission?
A: Yes, simply send us the name of the character, provide details the of character's image, tell us in detail about your order, wait for our quote and the estimate production time and done! You will need to contact us to discuss the details, feel free to email us: go2cosplay@gmail.com!

Q: If I get the wrong size costume, what should I do?
A: You need to contact us first, then measure your chest, waist, and hips, put a tapeline against the costume, make sure the datas are clear, send pictures to us within 48 hours after you received the costume.

Q: If I received damaged or incomplete costumes, what should I do?
A: First take the photos of it, send us the photos within 48 hours after you received it, do not try it on or wash it.

Q: Who will afford the shipping fee for the return and exchange?
A: That depends on the situation, if you selected the wrong size or you just want to return it without any reason, you should afford the shipping. If it is not our fault, we won't afford it. For more details, contact us through email.




Returns Policy
Please note that you can cancel an order ONLY if it hasn't been shipped out yet. It is the buyers responsibility to provide the correct address, and we will not be held accountable in such circumstances. You will be refunded if the item is damaged on arrival.
Your exchange must be processed as a return and reorder. Please email us to go2cosplay@gmail.com or call our Customer Service department at (276) 546-7239‬ to initiate the return and reorder process. You will be responsible for all return shipping fees. We will not reimburse for original shipping.

Return and full refund:
Products with quality problem in 7 days (from the date products were received) can be returned and refund.
Customer need to send the products back to us, when we receive the products, we will give an full refund.
Replace:
Products with quality problem in 10 days (from the date products were received) can be returned and replaced.
Customer need to send the products back to us, when we receive the products, we will replace new ones and ship back to customer.

Return Address and other information:

First Name: Ye
Last Name: Yuan
Zip Code: 230011
Street Address: HuangMaHuaYuan 56#, MingHuang Road, YaoHaiQu, Hefei, Anhui, China
Phone: ‪(276) 546-7239‬

Please send the tracking number to us and we'll refund you after we receive the package.

For more helps about returns/exchange and refunds you can contact us:

E-mail: go2cosplay@gmail.com

Tel: ‪(276) 546-7239‬